Product
Product Model: Q-200/Q-200i

Scope of application: Cutting/Marking/Drilling/Glass and Ceramic Processing/Thin Metal Cutting

RF Frequency: 81.36MHz

Refrigeration mode: Water-cooled

Characteristics:
1. Integrated with laser beam renovating system, output with circular fundamental mode Gaussian beam.
2. All -metal structure with sealed off design, maintenance free
3. RF power supply and cavity integrated package, appearance simplicity & easy to be integrated
4. Compact structure, high-grade dust-proof design, suitable for a variety of industrial environments
5. CAN bus, external pulse dual working mode
Model

Q-200

Q-200i

Pump Method
RF-Excited
RF Frequency

81.36MHz

Laser Resonator
Slab & Waveguide
Wavelength
10.6μm
9.3μm

Average Power

200W

160W

Output power range

5-200W

5-160W

Max. Peak Power

450W

400W

Beam Quality(M²)

<1.5
Pulse Period

10μs ( equivalent 100KHz)

Pulse Width

3μs

Pulse Rise/ fall time

<60μs

Pulse Rise/ fall time

<60μs

Modulation Pulse Width Range
3-1000μs
Modulation

0.8kHz-50kHz

Power stability

≤±5%

Beam diameter

7.0±0.5mm

6.5±0.5mm

Beam Divergence

<1.5mrad

Beam Ellipticity
0.83-1.2
Polarization (Parallel to the base)

Linear > 100:1

Range of Wavelength

10.3-10.8μm

9.2-9.4μm

Volume

853x150x196mm

Weight

18KG

Input

48VDC/50A

Cooling
Water-cooled
Environmental Temperature

5~40℃

Humidity
0-95%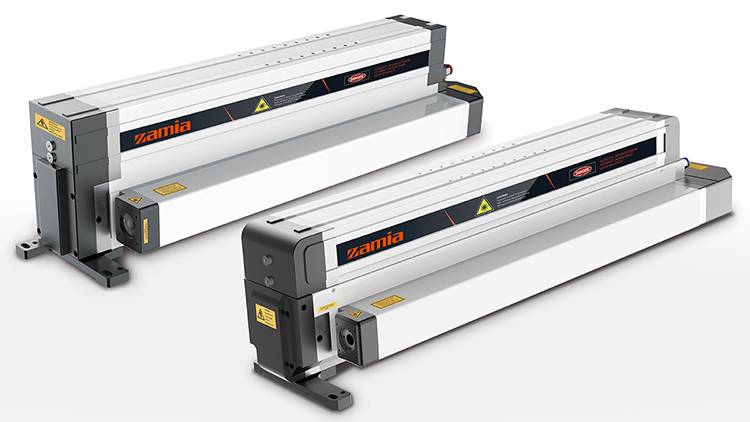 Q-200 / Q200i CO2 RF lasers dimensions
Problems & Solutions
Indicator light
Normal status
1. PWR: Green, power indicator light, flashes for 20 seconds when the power is turned on, indicating the laser is initialized. Then there is a constant brightness, indicating that the laser is in a working state.
2. LASER: Red, indicating the light output of the laser : PWM signal is being input, laser light beaming.
3. WATER,TEMP,RF,CAN Light off.
Troubleshooting
1. WATER Red light on: Water cooling failure. Please check whether the water flow is normal.
2. TEMP Red light on: Temperature alarm, abnormal temperature of laser.
3. RF Red light on: Abnormal RF power supply.
4. CAN Yellow light on: CAN bus mode on
Please consult this manual and proceed according to the instructions.
If the problem remains, please do not attempt to self-repair, and contact our company or SPT laser authorized dealers for help.
Storage and transportation CO2 RF laser
Before storage lasers, drain out the water in the waterway. Once the waterway is drained, compressed air must be used to totally dry the waterway and prevent any small amount of water to remain in the laser waterways. In cold weather, a small amount of water can freeze, and may cause up to irremediable damage to the laser.
If you need to carry the laser, please use the original laser packaging box. If the box is lost, please contact SPT Laser to purchase a new one.
Click to view the official website of SPT Laser.

With professional and strong R&D, manufacturing, and sales teams, SPT has a full breadth of perspective on every aspect of laser industry. Focusing on our clients' demanding needs, we consistently deliver "Build to Last" laser core. As a professional supplier of CO2 laser core, SPT offers comprehensive solutions, incorporating technology and manufacturing customizations matching industries and applications' demands.
SPT now aims to develop the most advanced and stable laser core ever conceived by balancing a culture of innovation, while striving for consistency and refined systematization of execution. We believe in growing together with our customers, providing high-quality solutions for demanding laser machinery makers and automation integrators.
1. 30w ~ 260w glass CO2 laser tube ( C series, T series, TR series & V series);
5. Laser obstacle remover and other laser devices.
Related Search