Product
Product Model: C70

Scope of application: cutting and carving non-metallic materials/medical/scientific research

Laser Power: ≥60W

Tube length: 1250mm
Parameters
| | |
| --- | --- |
| Model: C70 | Rated power: 60W |
| Wavelength: 10.6μm | Max. power: 80W |
| Length: 1250±5mm | Stability: ≤±5% |
| Diameter: 55±1mm | Excitation mode: DC high voltage excitation |
| Ignition voltage: 17-19KV | Cooling: Water-cooled 15-25℃ |
| Beam divergence angle: 3.1mrad | Operating voltage: 15-16KV |
| Pulse frequency: 100% to 5KHZ | Beam quality: ≤1.1 |
| Ignition current: 4-5mA | Net weight: 1.62Kg |
| Working current: 15-20mA | Laser mode: Fundamental Mode |
| Spot diameter: 5±1mm | Carton size: 1380*130*110mm |
C series co2 laser tube has features of high quality laser beam, high cutting speed, small volume, and extended life of laser tube. Our unique laser coating technology enhances the laser tube power and improves its lifetime.

To ensure consistency of the laser tube quality, we carry out precise digital control and very strict quality control in ourprocess of production from laser tube blank firing process, resonant cavity catalyst coating, grinding mirror mounting and high accuracy gas charge technique.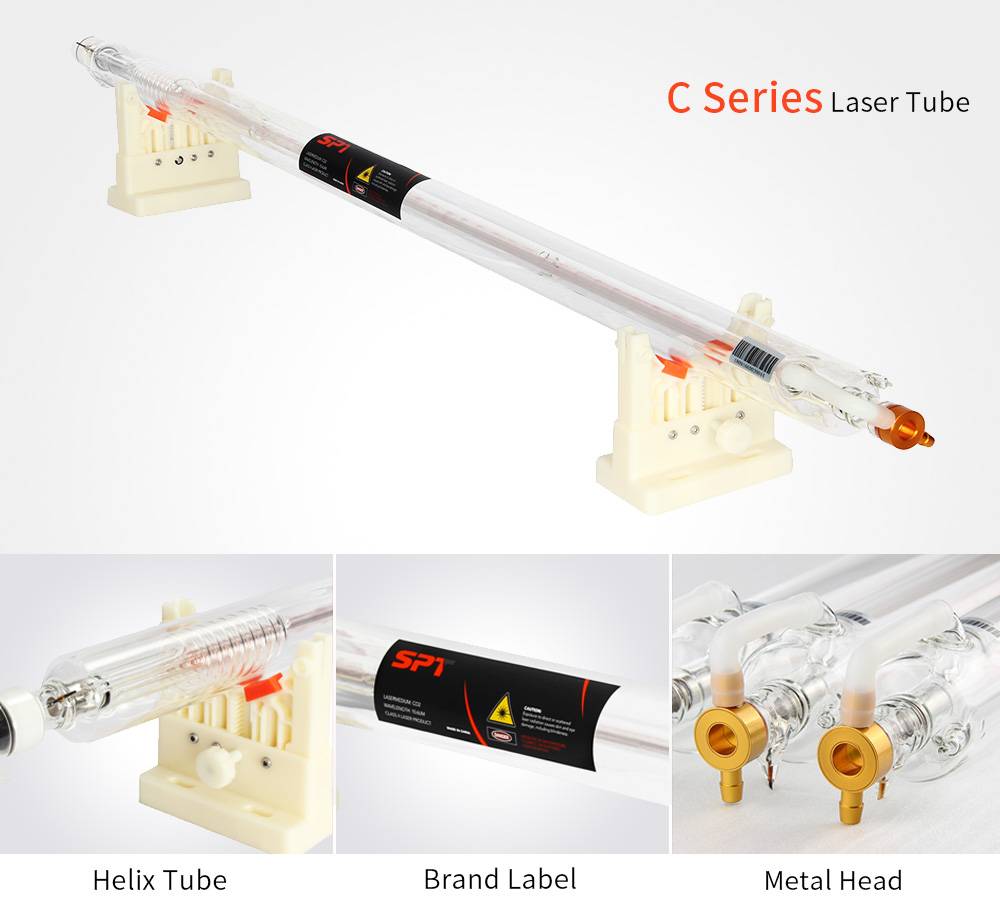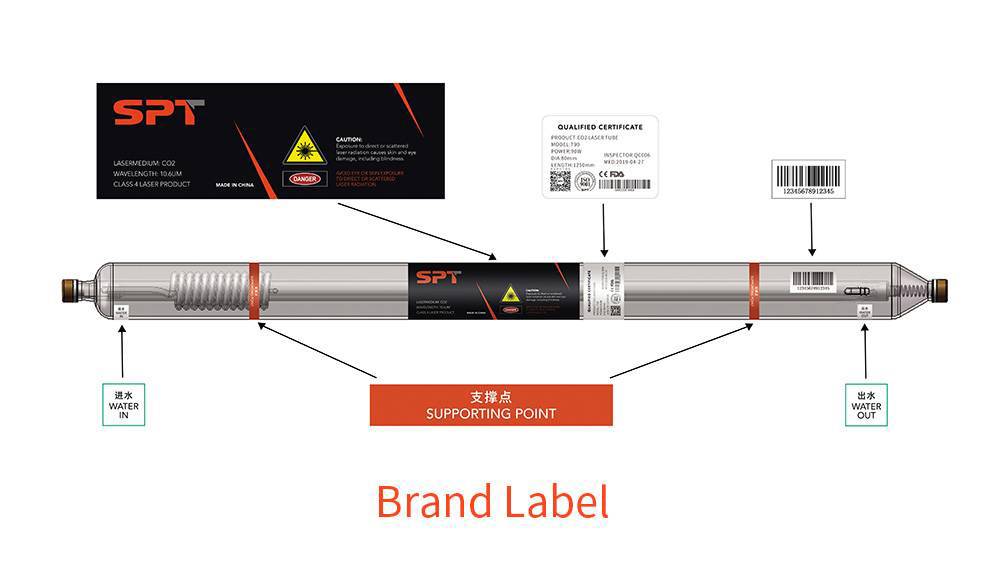 Problems & Solutions & Attentions of laser tube
Advantage:
1. Unique Shape Design
SPT CO2 laser tube have Its unique structure not only maintain the appearance of CO2 laser tube's beauty, but also makes the flexural capacity of the pipe body variant multiplied, so that CO2 laser tube work stability has greatly improved.

2.Significant Cutting Speed
SPT CO2 laser tube using the basement membrane beam quality design, improve product quality, the same power as compared to other products on the market, the SPT CO2 laser tube's cutting speed apparently higher than other CO2 laser tube.

3. Long Life and High Power
SPT CO2 laser tube have it's own special patent .it's applications combined with catalytic technology, greatly extending the life and power of the laser tube. Such as the SPT CO2 laser tube 150 w ,it's max output power can reach about 180 w. other company's CO2 laser tube merely can beyond us.

4. Light Weight
To compared SPT CO2 laser tube with the same other general Co2 laser tube, Our SPT CO2 laser tube's weight is lighter than others'. which will help enterprise to have a more diversify application on CO2 laser tube.

5.Long Warranty
SPT laser company believe that :"QUALITY IS OUR CULTURE".so we always hope to provide our best services to all of our buyers. One of our core advantages is the After-Service, we committed that our SPT CO2 laser tube 150w have 6 months warranty to you.

6. Resonable Price
SPT CO2 laser tube have providing reasonable price for all customers, compared to any other CO2 laser suppliers ,we think our products can give you a total different experience.
SPT CO2 laser tube ,Welcome your inquiry.
Our Services:
SPT Laser is specialized in laser tube manufacture and laser technology for more than 10 years. We will provide the following services.
1. High Quality Products with Competitive Price.
2. All orders are guaranteed to be dispatched within 3 working days after payment.

3. If any quality problem confirmed during warranty, new laser tube for warranty replacement will be sent with your new order without extra charge.
Click to view the official website of SPT Laser.

With professional and strong R&D, manufacturing, and sales teams, SPT has a full breadth of perspective on every aspect of laser industry. Focusing on our clients' demanding needs, we consistently deliver "Build to Last" laser core. As a professional supplier of CO2 laser core, SPT offers comprehensive solutions, incorporating technology and manufacturing customizations matching industries and applications' demands.
SPT now aims to develop the most advanced and stable laser core ever conceived by balancing a culture of innovation, while striving for consistency and refined systematization of execution. We believe in growing together with our customers, providing high-quality solutions for demanding laser machinery makers and automation integrators.
1. 30w ~ 260w glass CO2 laser tube ( C series, T series, TR series & V series);
5. Laser obstacle remover and other laser devices.
Related Search